MOZZY 360 Hammock Bug Net Shelter
Description

We're all about the wind in our hair and sun on our face, but mosquitoes? Not so much. Now your pack, boots, and even your trusty pooch have a bug-free place to call home in our Mozzy Net.

Featuring deluxe mosquito netting that will fit almost any hammock, a built-in door, and water-resistant bathtub bottom, you'll now have total protection for yourself and your gear on the ground. The new black netting is better for star gazing and two 22" aluminum tent poles spread the netting evenly across to create a spacious shelter. The poles are designed to integrate into an enclosed tube system to keep them in place. The knotless cordlock system makes setup a breeze and the J zipper accented with a reflective marker make entry and exit easy, even in the middle of the night!




Features

Large floor size with plenty of hammocking space
No-see-em nylon mosquito netting
Double-sided zipper for easy entry and exit
Stake-compatible floor
Water-resistant bathtub bottom
Includes spreader bars that provide ample elbow room
Includes hang cords
Works with most 11' hammocks

 Tech Specs

Dimensions: 144" x 72" Netting, 82" x 22" bathtub floor.
Fits most 11' hammocks
Weight: 32 oz

Included:

4 Ground Stakes
Spreader bars
Cordlock hanging cord system
Stuff sack
HAMMOCK SAFETY & USe
Hang Safely By Following These Rules.

CAUTION: HAMMOCK USE PRESENTS A RISK OF INJURY FROM FALLING.

HANG YOUR HAMMOCK SO THAT THE LOWEST PORTION OF THE FABRIC IS NO MORE THAN 18 INCHES ABOVE THE GROUND.
ENSURE HAMMOCK IS LEVEL.
ALWAYS INSPECT EQUIPMENT AND THE AREA AROUND YOUR HAMMOCK PRIOR TO USE.
CHECK HAMMOCK FOR TEARS, HOLES, OR WEAKENING OF FABRIC PRIOR TO EVERY USE.
MAKE SURE ALL KNOTS ARE SECURE.
Avoid Prolonged exposure to direct sunlight as it can weaken the fabric over time.
Clear rocks, sharp objects, and debris from the surface beneath hammock.
MAKE SURE YOUR HAMMOCK IS NOT SET UP NEAR A CAMP FIRE, GRILL OR ANY OTHER OPEN FLAME.
TO AVOID FALLING, ENTER AND EXIT YOUR HAMMOCK SLOWLY AND CAREFULLY. ENSURE THAT BOTH OF YOUR HANDS ARE FREE WHEN ENTERING THE HAMMOCK SO THAT YOU CAN BALANCE AND STEADY YOURSELF.
AVOID CONTACT WITH SHOES, SHARP OBJECTS, OR FLAMMABLE ITEMS INSIDE OR NEAR THE HAMMOCK.
NEVER LEAVE CHILDREN UNDER THE AGE OF 16 UNATTENDED NEAR THE HAMMOCK.
MAXIMUM WEIGHT BEARING CAPACITY IS STATED ON EACH HAMMOCK PACKAGE. DO NOT EXCEED THIS LIMIT.
USE OF HAMMOCK IN HIGH WINDS IS NOT RECOMMENDED.
Do not stack hammocks.


Wash Instructions: Hand wash with mild soap, hang dry.
Fell in love at first zip!
I've been an avid camper for 25+ years and don't know how I've made it so far without one of these! The perfect addition to any outdoor vibe! Bugs free!
Great for camping with your best friend! (a dog of course!)
I wanted a bug net that would go to the ground so my furry friend would be protected as well if she didnt want to stay in the hammock. I did not want her to be in a separate "dog" tent. But wanted her close to me. This bug net is perfect for camping with your dog! It is relatively easy to set up and the fabric is very durable. The few times she has pawed at the screen it did not rip. I will add that the bottom is NOT water proof, water does seep through it a bit. It is a little bulky and heavy for backpacking so am looking for a lighter option. But until I find one, this works great. Perfect for car camping adventures when the bulk and weight are not an issue. I even used it with the hammock stand and the 2 worked together just fine.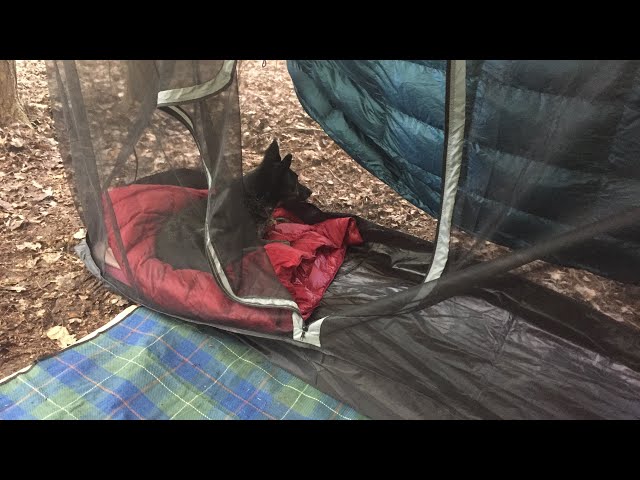 I've tried them all...This one is by far my favorite
I have tried them all, this one is by far my favorite. If I need to stretch out I can get on the floor and put a sleep mat down there. I love having a place to store gear and keep bugs and critters out of everything. I really dont like other net that get too close to me, so thats another reason I like this one. I plan to buy more as more of my family gets into hammock camping. I just wish they made a double one. I am thinking about sewing two together for tandem double hammocking, it shouldn't be too hard. If they made one like that, I would totally buy it.
Love it!
The first time I used it was a little tricky but once I figured it out, I was good to go from there. I have a dog that I like to take with me if I go by myself for protection and companionship. She did very well in it until one night a raccoon came up to the hammock and she actually ripped a hole in the side trying to get to it. I had to sew it back up and teach her that it was a no no. I love the fact that it has rods to hold the top away from you and give you some room. My only issue is I wish the base was bigger for more room for her and my gear bag. She isn't huge but big enough to take up most of the bottom.
Bug Free Camping in the Boundary Waters!
I just used this on a five day trip through the Boundary Waters where the bugs are known to be bad in the summer. It was perfect! It gave me peace of mind at night knowing I wouldn't wake up as one giant mosquito bite. I woke up and saw them all sitting on the outside of the net (where they belong) and that was all the proof I needed - even if it did make me more reluctant to leave my hammock nest for the great outdoors. The best bonus is the water resistant bottom. It was really nice to be able to throw my chacos, sweatshirt, and a water bottle down there knowing it's protected and in arm's reach without having to sleep with it. I think it would be great to have my dog sleep in that spot as well to protect him.
If I were to criticize anything, it would be that I wish it packed down smaller. It was a little larger than I expected, but absolutely worth the space it did take up. I put it in a compression sack and that helped.
Giving to Ensure Future Generations
A portion of our sales go to supporting the planet.