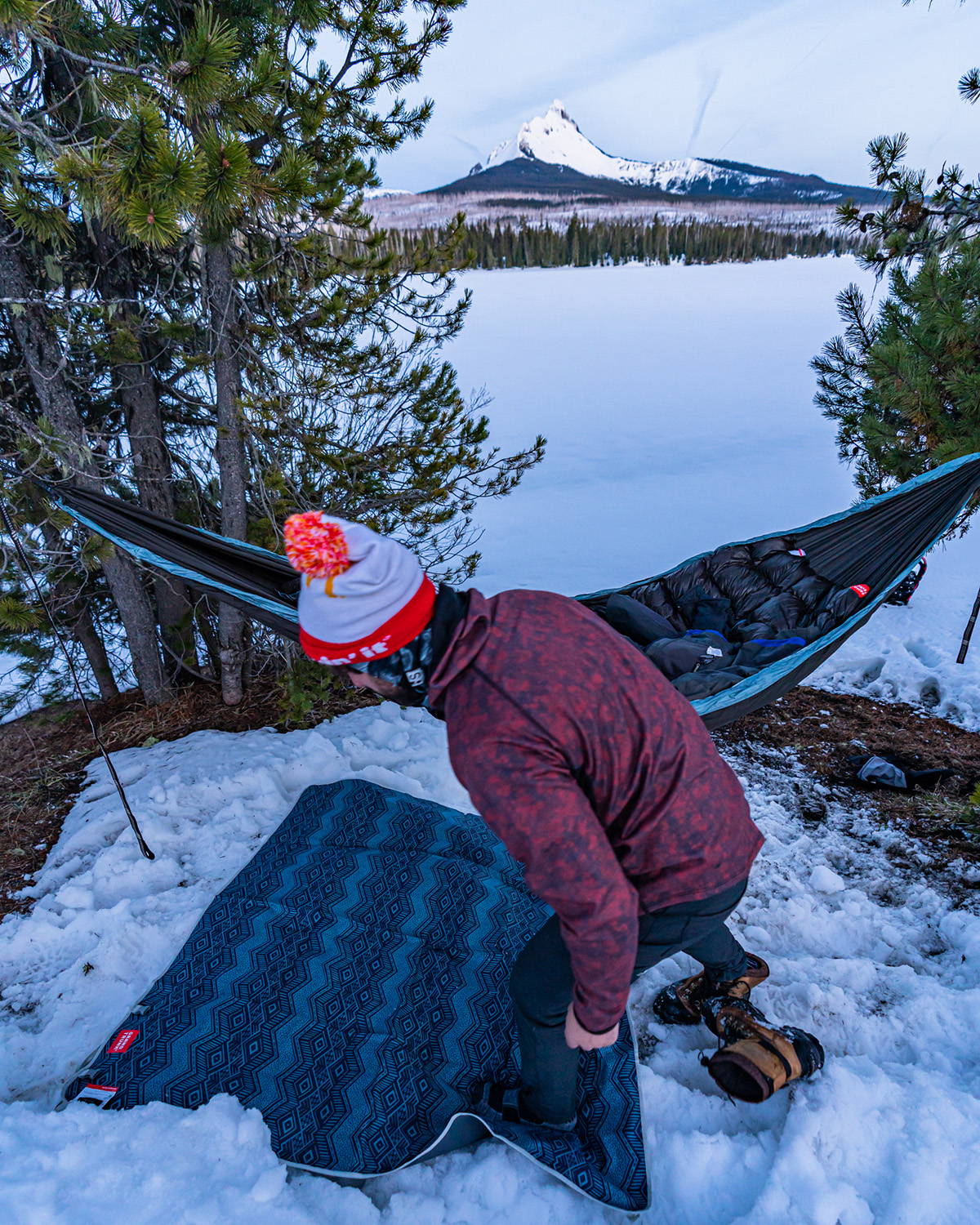 The summer months are long behind us (or just ahead of us, depending on your perspective...) but it doesn't mean you need to put your hammock away. While it may sound crazy, cold weather hammock camping is a thing and it's actually quite exhilarating! 
You haven't been hammock camping until you've been hammock camping in the winter. Truly a gem that can only be experienced in person, cold-weather camping is incredibly sublime, something out of Henry David Thoreau's Walden. 
However, we cannot undermine its nature. This is a cold that is inescapable until you find yourself back indoors. Cold weather camping or hammock camping is not for the ill-prepared or inexperienced. 
So before you get ahead of yourself and end up an icicle, it's in your best interest to be well prepared for the cold. That said, we created today's article to list out some things you need to know when cold weather hammock camping.
Some Cold Weather Hammock Camping Tips
To address your first question, yes, you can go hammock camping in the winter. In fact, hammocks are best suited for cold-weather camping in comparison to tents as you're up and away from the ground. This keeps you away from the snow, allowing you to retain your warmth whilst tucked away in your hammock. 
However, a simple hammock is not enough to withstand the cold. If you want a successful go at cold-weather hammock camping, you need to first research your desired location and be in the know of any and all safety measures.
Location Scouting
Scouting out the best location to pitch your hammock is just like any other camping trip, yet this time around you need to factor in the cold weather. We're not being dramatic here, remember that heat rises.
The lower you are in terrain, the temperature will reflect this. Therefore, it's in your best interest to pitch your hammock in an area that is midway up a hill, valley, or mountainside. 
Also, do not forget about the wind. That's a rookie mistake and one you should not be willing to make due to just how cold it can get during the winter months. That said, look for a spot with a natural barrier, or a spot that can allow you to build your own barrier if needed.
If you could take away only one thing we mentioned so far, take away this: heat rises and the wind is not your friend while winter camping.
Safety Precautions 
Leading right into our next point—safety precautions, another factor you must take into consideration if you do decide to go winter camping. 
We cannot stress how important it is to be mindful of the cautions to take when camping during the winter months. Not only does choosing the right location keep you from being cold, especially upon nightfall, but it also helps to prevent any potential accidents or tragedies from occurring. 
Look out for any branches or trees that have the potential of falling, especially due to a high wind current. Moreover, it is ideal for you to avoid any areas that have the potential for morning dew. Because you're camping overnight, during the winter months, morning dew can cause hypothermia. 
Check the Forecast Beforehand
This one may seem like a no-brainer but we can't go without stating the obvious. In the effort to further stress precaution, be sure to check the forecast before you decide to go about your cold-weather hammock camping trip. 
Hypothermia isn't to be disregarded or discounted. It's classified as a medical emergency and therefore should be something to do take into consideration in terms of preparing yourself with the appropriate gear for cold weather hammock camping as well as the weather. 
Do the obvious and check the forecast and your gear before embarking on your overnight hammock camping trip. Also, if the weather isn't agreeable on the day of your trip, do the obvious again and rain-check for another day. 
Cold Weather Hammock Camping Gear Must-Haves
Ooh, the "exciting" part: gear! 
Obviously, cold weather hammock camping gear differs slightly from traditional hammock camping gear. So what exactly does one need to bring to avoid, you know, possibly waking up an icicle come sunrise?
If you plan on going cold-weather hammock camping, don't even consider pitching your hammock before purchasing the following equipment. 
Sleeping Bag
Ah, yes, a sleeping bag. You know you have one of these lying around. Well, go ahead and add it to your gear list. This cannot be overlooked when doing cold-weather hammock camping. What you might not have laying around, however, is our Evolution Hammock. This hammock integrates the sleeping bag, so you just pack one thing instead of two! You can read more about it here.
Sleeping bags function as insulation between your clothing and hammock. It is an absolute must for your hammock camping gear.
Therefore, be sure to invest in a sleeping bag that can actually withstand the cold winter weather you're headed into. Look at customer reviews if you're going to purchase a new sleeping bag for this particular occasion. 
Many find that the mummy-style sleeping bag is the best for the cold weather as it conforms to the shape of your body, retaining your body's heat in the process.
Pro Tip: Invest Smart, Choose Agility 
Whether it is the 
360° Thermaquilt
, the Evolution Hammock, the Meadow Mat, or other gear—it should be versatile and work in multiple situations and uses. 
Whether it is an underquilt that can double as a sleeping bag or overquilt, a multi-product that helps you shed weight, a mat that works in so many ways, or a stool that can help you sit anywhere—Grand Trunk has the gear for any adventure.
Grand Trunk, Your Go-to for The Outdoors
We at Grand Trunk specialize in all things adventure and provide outdoor enthusiasts like yourself with the proper gear and equipment for your adventure needs.
If you're unsure about the products, feel free to 
contact us
, view our FAQs, or refer to the reviews down on each product's page, our customers are amazing! 
Do yourself a favor and prep right for your upcoming winter camping trip. Your money will go a long way when you decide to invest in the best.