MOZZY 360 Hammock Bug Net Shelter
---
We're all about the wind in our hair and sun on our face, but mosquitoes? Not so much. Now your pack, boots, and even your trusty pooch have a bug-free place to call home in our Mozzy Net.
Featuring deluxe mosquito netting that will fit almost any hammock, a built-in door, and water-resistant bathtub bottom, you'll now have total protection for yourself and your gear on the ground. The new black netting is better for star gazing and two 22" aluminum tent poles spread the netting evenly across to create a spacious shelter. The poles are designed to integrate into an enclosed tube system to keep them in place. The knotless cordlock system makes setup a breeze and the J zipper accented with a reflective marker make entry and exit easy, even in the middle of the night!
Features
Large floor size with plenty of hammocking space
No-see-em nylon mosquito netting
Double-sided zipper for easy entry and exit
Stake-compatible floor
Water-resistant bathtub bottom
Includes spreader bars that provide ample elbow room
Includes hang cords
Works with most 11' hammocks
 Tech Specs
Dimensions: 144" x 72" Netting, 82" x 22" bathtub floor.
Fits most 11' hammocks
Weight: 32 oz
Included:
4 Ground Stakes
Spreader bars
Cordlock hanging cord system
Stuff sack
Such a versatile shelter
Originally got this to try hammock camping out but as a side sleeper, it just wasnt working out. I'm still able to use it as a lightweight, versatile shelter system along with the Abrigo rain fly. I toss a sleeping pad on the floor and use my hammock as a gear sling, it's so convenient. Being able to have an "awning" on the door side and a pitched roof for the opposite end gives you enough room to cook or hang out under without getting rained on as well. Set up/take down is a breeze.
This is a MUST HAVE in Florida
Mosquitos here will bite you through the hammock fabric if your mosquito net touches any part or your hammock. Finally got to use this for two nights in a row and I had 0 mosquito issues. The bars that spread the sides out made all the difference. The tub floor setup worked great letting me unzip and get in quick before mosquitos followed me. Then I could take my time getting my shoes off etc.
Fell in love at first zip!
I've been an avid camper for 25+ years and don't know how I've made it so far without one of these! The perfect addition to any outdoor vibe! Bugs free!
Great for camping with your best friend! (a dog of course!)
I wanted a bug net that would go to the ground so my furry friend would be protected as well if she didnt want to stay in the hammock. I did not want her to be in a separate "dog" tent. But wanted her close to me. This bug net is perfect for camping with your dog! It is relatively easy to set up and the fabric is very durable. The few times she has pawed at the screen it did not rip. I will add that the bottom is NOT water proof, water does seep through it a bit. It is a little bulky and heavy for backpacking so am looking for a lighter option. But until I find one, this works great. Perfect for car camping adventures when the bulk and weight are not an issue. I even used it with the hammock stand and the 2 worked together just fine.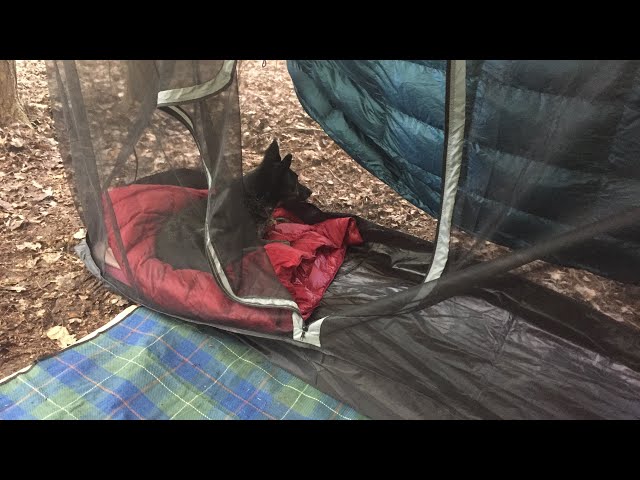 I've tried them all...This one is by far my favorite
I have tried them all, this one is by far my favorite. If I need to stretch out I can get on the floor and put a sleep mat down there. I love having a place to store gear and keep bugs and critters out of everything. I really dont like other net that get too close to me, so thats another reason I like this one. I plan to buy more as more of my family gets into hammock camping. I just wish they made a double one. I am thinking about sewing two together for tandem double hammocking, it shouldn't be too hard. If they made one like that, I would totally buy it.